Tanks
---
Poly Tanks
Slimline Poly Tanks We stock 2 different styles of Poly 3000L Slimline Tanks with dimensions of '800W x 2600L x 1950H' for the smooth walled Poly Slimline or '735W x 3075L x 1700H' for the ribbed wall Poly Slimline, so you can pick which design suits your property best. All our Slimlines come with inlet and outlet strainers, tap and cover.
We have a large range of Poly Round Ribbed Wall or Smooth Wall tanks available from 1000Ltrs, 3000Ltrs, 5000Ltrs, 10000Ltrs and 22500Ltrs. Our Poly Ribbed Wall Tanks are made extra thick (almost 3 x Australian Standard minimums) so there is no bulging or bursting. Call us for more details.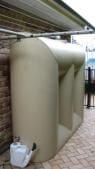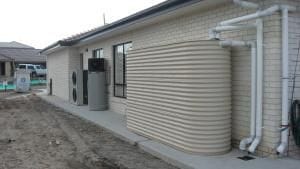 ---
Steel Tanks
Excellent and long-lasting quality is how you would describe our Aquaplate steel tanks. With steel reinforcing rods placed internally and tech-screwed externally, our tanks can with-hold water pressure up to 10,000Ltrs in a Slimline Tank.
Round Steel Tanks made to suit your property are also available on request. A full range of colour bond colours are available. Call us with your measurements and we can design a tank to suit your needs.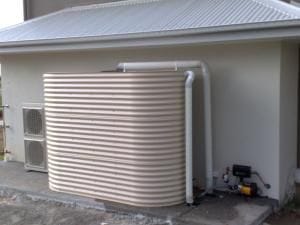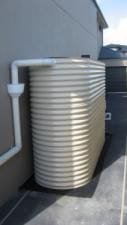 ---
Concrete Tanks
We supply and install concrete tanks from 3900L to 31500L. Trafficable tanks suitable for under driveways or lawns are also available from 10,000L, 22500L or 31500L. Our team can competently advise and arrange installation of any of our concrete tanks on your property. Call us for a free quote.
Our trafficable concrete tanks are very popular with builders for long lasting durability and for best use of land space. We can take care of the whole package for you.