Irrigation controllers making watering your garden easy.
Posted by Darren Dodson on 27 October 2014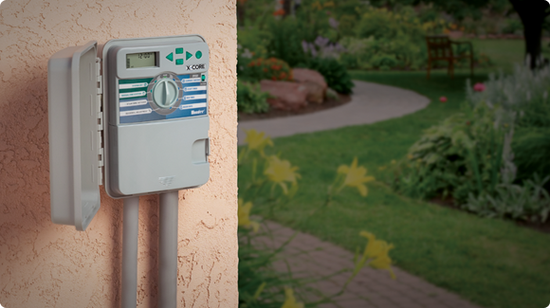 Total Water Services prides itself on providing cost effective solutions to all your irrigation needs. With summer fast approaching maybe you should consider and irrigation controller to keep your gardens watered more efficiently. We recommend the Hunter range of controllers and the Rainbird RZX series controllers.
The Hunter X-Core residential controller offers simple operation with "smart" Solar Sync compatibility. With easy-to-configure control for up to 8 stations, including 3 programs and 4 start times each, the X-Core is the perfect solution for residential applications. Plug in the revolutionary Solar Sync ET sensor and the X-Core is converted into a "smart controller" that regulates irrigation run times based on locally measured weather. X-Core is also compatible with Hunter remotes for quick, wireless activation of irrigation.
The Rainbird ESP-RZX provides flexible scheduling features that make the controller ideal for a wide variety of applications including residential and light-commercial irrigation systems.
The ESP-RZX Controller was designed with ease of use in mind. Zone-based scheduling allows every valve to be scheduled independently; no more complicated "programs". The large LCD display shows all of the programming for each zone at the same time. Simple graphic based user interface is easy to explain and presents every controller feature at your fingertips.
Why not come down to our Hillcrest showroom and see one of our friendly staff who will be able to assist you in finding the right irrigation controller for your watering needs
.
Author:
Darren Dodson
About: Senior Consultant Commercial/ Nursery Project Sales Total Water Services